MPELRA's 48th Annual Training Conference will take place on September 20 – 22, 2017 at the Cedar River Village at Shanty Creek Resort.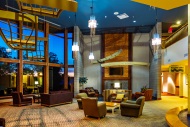 This year's conference is designed to address topics that are of particular interest to practitioners in the field of Labor Relations/Human Resources, and those who specialize in employment and labor law. We invite you to join us for "Breaking News, Expert Views and Tactical How-to's" as speakers provide insights on core LR/HR topics. This will include their perspective on pending legislation and expected challenges that are likely to influence our profession in the future.  When you review the attached agenda, we're sure you'll agree that we have created a compelling program that you won't want to miss. The conference sessions are timely, informative and thought-provoking, making it well worth the modest registration fee.
All sessions have been submitted for approval towards recertification credit hours through the Human Resource Certification Institute (HRCI) and the Society for Human Resource Management (SHRM). Networking events provide opportunities for more relaxed discussion, information sharing and meeting new people. And of course, Northern Lower Michigan provides the perfect setting for refreshing your senses and your outlook.
Be sure to register for the conference and book your room at Cedar River Village with Shanty Creek by August 19, 2017 to take advantage of the early conference registration fee and special lodging rate.  Register online using the link on the right or by using the forms included in the conference packet below.
2017 MPELRA Annual Training Conference Info and Registration Forms
Shanty Creek Lodging Reservation Form – 2017
2017 Meetings
March 3 – Cascades Manor House in Jackson
June 2 – Barton Hills Country Club in Ann Arbor
September 20-22  – Annual Conference at Shanty Creek in Bellaire
December 1 – University Club of MSU in Lansing