MPELRA will be hosting its next meeting on December 1, 2017 at the University Club of MSU.  The agenda includes sessions on motivating a team, controlling health care costs, and an always crowd-pleasing labor relations roundtable discussion.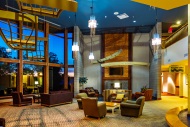 ALL program sessions have been submitted for pre-approval for HR General recertification credit hours toward aPHR™, PHR®, PHRca®, SPHR®, GPHR®, PHRi™, SPHRi™ recertification through the Human Resource Certification Institute (HRCI). Notice will be posted on the MPELRA web site when the HRCI credits have been approved.
MPELRA has been approved as a SHRM Preferred Provider and recognized by SHRM to offer Professional Development Credits (PDCs) for the SHRM Certified Professional (SHRM-CP™) for early-career practitioners and SHRM Senior Certified Professional (SHRM-SCP™) for senior-level practitioners.
Reservations and lunch are $50.00 for members and $60.00 for non-members. In order for us to
obtain a more accurate estimate of attendees, please make reservations by November 24, 2017
online at www.mpelra.org or by sending the attached form to Barbara Wise Johnson at:
MPELRA
P. O. BOX 235
Farmington, MI 48332-0235
Phone: (313) 460-1613
Email: treasurer@mpelra.org
Register online using the link on the right or by using the mail-in form which is attached to agenda below.
MPELRA Program and Registration – December 2017
2018 Meetings
March 2 – Cascades Manor House in Jackson
June 1 – Barton Hills Country Club in Ann Arbor
September 12-14  – Annual Conference at Shanty Creek-Cedar River Village in Bellaire
December 7 – University Club of MSU in Lansing
2018 Board of Directors Meetings
February 16, 2018 – Kellogg Hotel and Conference Center, East Lansing
May 18, 2018 – Kellogg Hotel and Conference Center, East Lansing
July 20, 2018 – Kellogg Hotel and Conference Center, East Lansing
September 11, 2018 – Shanty Creek – Cedar River Village, Bellaire
November 16, 2018 – Kellogg Hotel and Conference Center, East Lansing